Before Priyanka Chopra in The Matrix 4, Did You Know Lara Dutta Was Approached for the Original Trilogy?
Priyanka Chopra joining The Matrix 4 has been a huge news when it came out a couple of months. This has been one of Priyanka's big projects in her Hollywood journey, since she played the main antagonist in Dwayne Johnson and Zac Efron's Baywatch. Not to mention, headlining an American series, Quantico, as the lead. The Matrix 4 brings back Lana Wachowski, one of the Wachowski sisters who directed the original trilogy, along with its lead stars, Keanu Reeves and Carrie-Anne Moss. Jada Pinkett Smith and Lambert Wilson  are also reprising their characters from the original trilogy. Priyanka Chopra Joins Keanu Reeves' Matrix 4, Will Start Shooting for it in Germany.
Priyanka Chopra will also be joined by other new cast members in  Neil Patrick Harris, Yahya Abdul-Mateen II, Jessica Henwick, Jonathan Groff, Andrew Caldwell, Brian J Smith, and Ellen Hollman. While the details of her character are still unknown, the actress has resumed shooting for the film recently after the lockdown restrictions were lifted. The Matrix 4 would possible release on April 1, 2022.
Now let's do a little throwback. All Priyanka Chopra fans know that before she entered movies, she was a beauty crown and was crowned Miss World in 2000. The very same year, Lara Dutta, Priyanka's co-star in Andaz, was also crowned Miss Universe. And did you know that Lara was the first to be approached for The Matrix films, when the original trilogy was made? Matrix 4: Keanu Reeves' Upcoming Sequel Gets Delayed By Over a Year, Will Now Release on April 1, 2022.
As per reports, post her Miss Universe-win, Lara Dutta was approached for the role of Persephone, a crucial character that appeared in the Matrix sequels, Reloaded and Revolutions.  Popular French actress Monica Bellucci later played the role.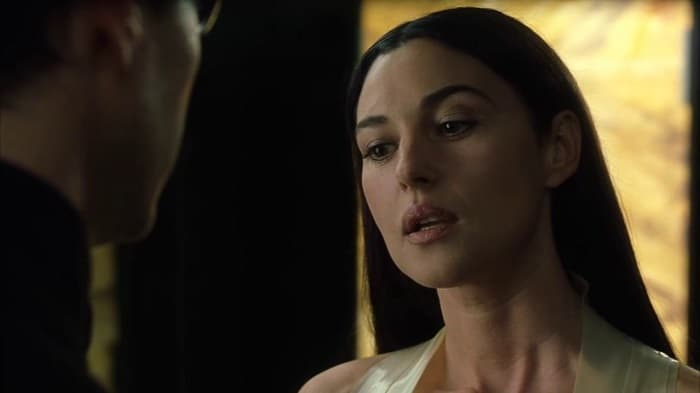 Monica Bellucci in The Matrix Reloaded
According to these reports, Lara Dutta, who was last seen in the Hotstar series Hundred, turned down the role because she wasn't happy with the script. However, in an interview given to Bollywood Hungama in 2016, she clarified that wasn't the reason at all.
She said, "Let's face it that it will only require a fool's brains to be turning down the role because of the script. But the fact is that it is true, I was offered a role in The Matrix. But this happened during my 'Miss Universe' days. I turned it down as my mother fell really sick during that time and I very badly wanted to come back home and be with her."
While we are disappointed that we couldn't see Lara shine in the role of the femme fatale in the Matrix films, circa 2022, Priyanka Chopra gives us a reason to be proud, as she (hopefully) kicks ass in bullet-time along with Keanu Reeves.
(The above story first appeared on LatestLY on Jul 07, 2020 06:05 PM IST. For more news and updates on politics, world, sports, entertainment and lifestyle, log on to our website latestly.com).
Krack Day 5 Box Office Collection
Krack performed well on its first 4 days at the box office and earned ₹ 18.35 Cr India net. Here is Krack 5th day box office collection and Occupancy.Krack may earn 2.00 Cr on its fifth day.Krack 5 Days Box Office CollectionDayIndia Net CollectionDay 1 [1st Saturday]₹ 0.95 CrDay 2 [1st Sunday]₹ 9.00 CrDay 3 [1st Monday]₹ 4.50 CrDay 4 [1st Tuesday]₹ 3.90 CrDay 5 [1st Wesdnesday]₹ 2.00 Cr * may earnTotal₹ 20.35 Cr
5 Days India Net Collection ₹ – Cr5 Days Worldwide Collection ₹ – Cr5 Days Overseas Collection ₹ – Cr5 Days India Gross Collection ₹ – Cr5 Days Worldwide Share ₹ – CrKrack AP/TG area wise share collectionDayNizamCededGunturKrishnaNelloreWestEastUADay TotalDay 1 [1st Saturday]₹ 0.25 Cr₹ 0.05 Cr₹ 0.05 Cr₹ 0.06 Cr₹ 0.04 Cr₹ 0.05 Cr₹ 0.03 Cr₹ 0.07 Cr₹ 0.60 CrDay 2 [1st Sunday]₹ 2.05 Cr₹ 0.95 Cr₹ 0.60 Cr₹ 0.40 Cr₹ 0.23 Cr₹ 0.52 Cr₹ 0.40 Cr₹ 0.75 Cr₹ 5.90 CrDay 3 [1st Monday]₹ 1.00 Cr₹ 0.60 Cr₹ 0.25 Cr₹ 0.20 Cr₹ 0.15 Cr₹ 0.17 Cr₹ 0.30 Cr₹ 0.35 Cr₹ 3.02 CrDay 4 [1st Tuesday]₹ 1.00 Cr₹ 0.55 Cr₹ 0.20 Cr₹ 0.15 Cr₹ 0.15 Cr₹ 0.15 Cr₹ 0.20 Cr₹ 0.30 Cr₹ 2.70 CrTotal AP/TG Share₹ 4.30 Cr₹ 2.15 Cr₹ 1.10 Cr₹ 0.81 Cr₹ 0.57 Cr₹ 0.89 Cr₹ 0.93 Cr₹ 1.47 Cr₹ 12.22 Cr
Krack had an overall 44.88% Telugu Occupancy on Wednesday, January 13, 2021.Krack Day 5 Telugu Occupancy in Theaters
Morning Shows: 31.61%Afternoon Shows: 58.15%Evening Shows: -%Night Shows: -%Note: For mobile, Rotate the screen for the best view. Krack Day 5 Telugu Occupancy in main regionsRegionOverallMorningAfternoonEveningNightShowsBengaluru17.50%15%20%%%100Hyderabad40.00%25%55%%%250Chennai25.00%%25%%%4Vijayawada45.00%25%65%%%70Warangal82.50%70%95%%%16Guntur82.00%65%99%%%20Vizag-Visakhapatnam80.00%65%95%%%70Nizamabad72.50%60%85%%%10
This film is directed by Gopichand Malineni and produced by Saraswathi Films Division. Krack stars Ravi Teja, Shruthi Haasan, Varalaxmi Sarathkumar, and Samuthirakani in key roles. For more and the latest news about Tollywood Box Office Collection, Stay tuned to us.
Disclaimer: The Box Office Data are compiled from various sources and by our own research.
These data can be approximate and Sacnilk does not make any claims about the authenticity of the data.
Recent Information about Movies
KGF Chapter 2 Teaser released on 7th January 2021 at 9:29 pm. It is be available on Hombale Films Youtube Channel. more facts about KGF Chapter 2
Animal movie was announced on 1st Jan 2021 at 12:00 AM with a video on Youtube Channel of T-series. more facts about Animal
Vakeel Saab Teaser will be released on 14th January 2021 on Sankranthi. (This update was done on 12:01 AM on 1st Jan 2021 with a poster). more facts about Vakeel Saab
Raveena Tandon's first look as Ramika Sen from KGF: Chapter 2 was unveiled on her birthday on October 26, 2020. more facts about KGF Chapter 2
The upcoming film, Taish will release on ZEE5 on 29 October 2020 as a feature film and as a six-episode series simultaneously more facts about Taish