Charu Asopa and Rajeev Sen Video Call Each Other Amid Split Rumours, Are They Back Together?
Clarity is what is missing from the whole drama that Rajeev Sen and Charu Asopa's marriage life has become lately. After reports of living separately emerged, the couple unfollowed each other on social media, Charu dropped Rajeev's name from her social media handles while it was reported that Rajeev had blocked his wife from all channels of communication. And sometime last week, Rajeev and Charu both deleted all of their wedding pictures from their respective social media accounts. At that time, while Rajeev commented that 'he was in a happy place', Charu had refused to speak up. Rajeev Sen and Charu Asopa Delete All Wedding Photos From Social Media AFter Refuting Rumours of Trouble In Their Marriage.
However, in a recent interaction with an online portal, both Charu and Rajeev had put forth their sides. While Charu went on to state that Rajeev left her alone in Mumbai during these rough times (COVID-19 Lockdown), Rajeev believed that Charu was being brainwashed by someone close to her. Rajeev Sen Says Charu Asopa Is Being Brainwashed And He Will Expose The Culprit Once He Finds Them.
However, looks like the couple has sorted out their differences, or at least had made the first big step- by initiating conversation. Rajeev took to Instagram to post a story while video calling Charu. Charu Asopa Claims Husband Rajeev Sen Moved Out Days Before their First Anniversary, Insists No One is Brainwashing Her.
Check Out His Post Below: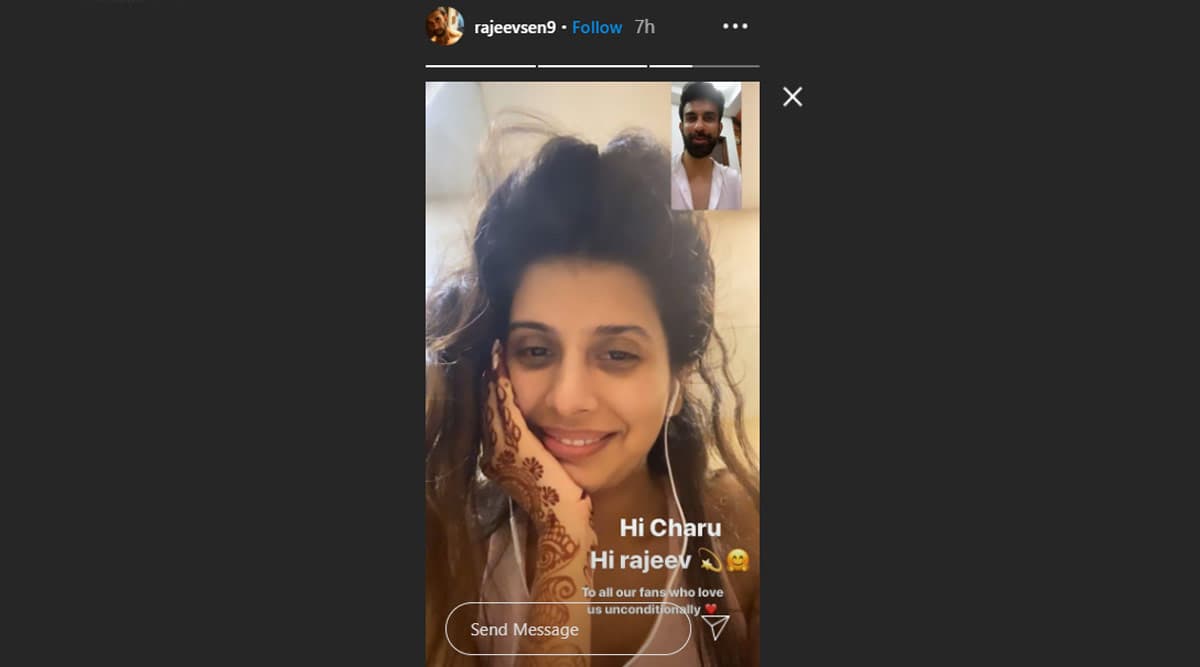 Charu Asopa Rajeev Sen (Photo Credits: Instagram)
"Hi Charu, Hi Rajeev. To all our fans who love us unconditionally," Rajeev's story read. In fact, Charu also performed the 'Sawan Puja' that wives perform for their husbands.
Check Out Her Post Below:
In their big reveal about their differences, Rajeev told the media, "I guess someone close to Charu is brainwashing her because she is a simple and innocent girl. It could be someone from her so-called huge friend circle. I hope she doesn't lose her path. If I find out who the culprit is, I will post his or her name along with a picture and a lot of facts. If they are going to hit me, I'm going to hit them back harder."
To this, Charu hit back at him asking why did he leave her alone in such trying times. She told BT, "Charu added, "No one is brainwashing me. I am mature enough to make my own decisions — something that I have always done. Maybe, he was brainwashed into deleting our pictures from his social media handles." Charu went on to lash out at her husband for moving out of their home, days before their first wedding anniversary and also claimed that "Shaq ka koi ilaaj nahi hai (There is no cure for doubt)," hinting that there were trust issues between the couple.
(The above story first appeared on LatestLY on Jul 15, 2020 09:03 AM IST. For more news and updates on politics, world, sports, entertainment and lifestyle, log on to our website latestly.com).
Krack Day 5 Box Office Collection
Krack performed well on its first 4 days at the box office and earned ₹ 18.35 Cr India net. Here is Krack 5th day box office collection and Occupancy.Krack may earn 2.00 Cr on its fifth day.Krack 5 Days Box Office CollectionDayIndia Net CollectionDay 1 [1st Saturday]₹ 0.95 CrDay 2 [1st Sunday]₹ 9.00 CrDay 3 [1st Monday]₹ 4.50 CrDay 4 [1st Tuesday]₹ 3.90 CrDay 5 [1st Wesdnesday]₹ 2.00 Cr * may earnTotal₹ 20.35 Cr
5 Days India Net Collection ₹ – Cr5 Days Worldwide Collection ₹ – Cr5 Days Overseas Collection ₹ – Cr5 Days India Gross Collection ₹ – Cr5 Days Worldwide Share ₹ – CrKrack AP/TG area wise share collectionDayNizamCededGunturKrishnaNelloreWestEastUADay TotalDay 1 [1st Saturday]₹ 0.25 Cr₹ 0.05 Cr₹ 0.05 Cr₹ 0.06 Cr₹ 0.04 Cr₹ 0.05 Cr₹ 0.03 Cr₹ 0.07 Cr₹ 0.60 CrDay 2 [1st Sunday]₹ 2.05 Cr₹ 0.95 Cr₹ 0.60 Cr₹ 0.40 Cr₹ 0.23 Cr₹ 0.52 Cr₹ 0.40 Cr₹ 0.75 Cr₹ 5.90 CrDay 3 [1st Monday]₹ 1.00 Cr₹ 0.60 Cr₹ 0.25 Cr₹ 0.20 Cr₹ 0.15 Cr₹ 0.17 Cr₹ 0.30 Cr₹ 0.35 Cr₹ 3.02 CrDay 4 [1st Tuesday]₹ 1.00 Cr₹ 0.55 Cr₹ 0.20 Cr₹ 0.15 Cr₹ 0.15 Cr₹ 0.15 Cr₹ 0.20 Cr₹ 0.30 Cr₹ 2.70 CrTotal AP/TG Share₹ 4.30 Cr₹ 2.15 Cr₹ 1.10 Cr₹ 0.81 Cr₹ 0.57 Cr₹ 0.89 Cr₹ 0.93 Cr₹ 1.47 Cr₹ 12.22 Cr
Krack had an overall 44.88% Telugu Occupancy on Wednesday, January 13, 2021.Krack Day 5 Telugu Occupancy in Theaters
Morning Shows: 31.61%Afternoon Shows: 58.15%Evening Shows: -%Night Shows: -%Note: For mobile, Rotate the screen for the best view. Krack Day 5 Telugu Occupancy in main regionsRegionOverallMorningAfternoonEveningNightShowsBengaluru17.50%15%20%%%100Hyderabad40.00%25%55%%%250Chennai25.00%%25%%%4Vijayawada45.00%25%65%%%70Warangal82.50%70%95%%%16Guntur82.00%65%99%%%20Vizag-Visakhapatnam80.00%65%95%%%70Nizamabad72.50%60%85%%%10
This film is directed by Gopichand Malineni and produced by Saraswathi Films Division. Krack stars Ravi Teja, Shruthi Haasan, Varalaxmi Sarathkumar, and Samuthirakani in key roles. For more and the latest news about Tollywood Box Office Collection, Stay tuned to us.
Disclaimer: The Box Office Data are compiled from various sources and by our own research.
These data can be approximate and Sacnilk does not make any claims about the authenticity of the data.
Recent Information about Movies
KGF Chapter 2 Teaser released on 7th January 2021 at 9:29 pm. It is be available on Hombale Films Youtube Channel. more facts about KGF Chapter 2
Animal movie was announced on 1st Jan 2021 at 12:00 AM with a video on Youtube Channel of T-series. more facts about Animal
Vakeel Saab Teaser will be released on 14th January 2021 on Sankranthi. (This update was done on 12:01 AM on 1st Jan 2021 with a poster). more facts about Vakeel Saab
Raveena Tandon's first look as Ramika Sen from KGF: Chapter 2 was unveiled on her birthday on October 26, 2020. more facts about KGF Chapter 2
The upcoming film, Taish will release on ZEE5 on 29 October 2020 as a feature film and as a six-episode series simultaneously more facts about Taish