Fact Check: Actor Javed Hyder Selling Vegetables To Augment His Income Is Fake, Here's The Truth About The Viral TikTok Video
A few hours back, a video of actor Javed Hyder, who has been in the entertainment industry and has shared screen space with the likes of Sanjay Dutt and Aamir Khan, selling vegetables on the streets of Mumbai to augment his income owing to lack of work during the COVID-19 lockdown, went viral. What only made the video seem authentic was the fact that actress and television personality Dolly Bindra had shared the video on her social media profile. Aamir Khan's Ghulam Co-Star Javed Hyder Is Earning His Livelihood Amid the COVID-19 Pandemic by Selling Vegetables? TikTok Video Goes Viral!.
However, after a thorough fact check, we have determined that the video was a mere TikTok that the actor made, with the intention to tell his followers that no job is big or small, superior or inferior. Hit by COVID-19 Lockdown, Small-time Actor Solanki Diwakar Returns to Selling Fruits to Earn a Living.
Check Out The Video That Dolly Bindra Shared on Her Social Media:
In fact, in a conversation with Mirror Online, Javed confirmed that he was not selling veggies on the streets. "No, I am not a vegetable vendor. I am an actor by profession even now. The entire selling vegetable video was just an act and I had made that TikTok only to motivate my followers that one should not give up when times are tough and that no work is small or big. I had no idea that it would go out with this message," Javed told the portal. Taapsee Pannu Complains About High Electricity Bill in June; Electricity Provider Responds.
Squashing all rumours of his financial stability, Javed further added, "By God's grace, I have enough to lead a normal life even if work doesn't resume for the next couple of months. And even if I have to sell vegetables for a living in future I have no qualms in doing it as that is also a normal job just like acting or anything else."
Javed also went on to reveal that he had even commented under Dolly Bindra's post and clarified that it was simply a motivational TikTok. "Dolly Bindra ji had shared the video on her social media handle stating that I'm selling vegetables now and I had even commented that it was only an act and nothing more, but I think people didn't notice it and the video went viral overnight," concluded Javed Hyder.
Fact check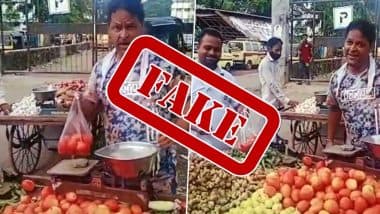 Claim :
Actor Javed Hyder Selling Vegetables To Earn His Living During COVID-19 Lockdown
Conclusion :
The Video Was A Motivational TikTok Made By The Actor To Motivate His Followers
(The above story first appeared on LatestLY on Jun 29, 2020 10:51 PM IST. For more news and updates on politics, world, sports, entertainment and lifestyle, log on to our website latestly.com).
Krack Day 5 Box Office Collection
Krack performed well on its first 4 days at the box office and earned ₹ 18.35 Cr India net. Here is Krack 5th day box office collection and Occupancy.Krack may earn 2.00 Cr on its fifth day.Krack 5 Days Box Office CollectionDayIndia Net CollectionDay 1 [1st Saturday]₹ 0.95 CrDay 2 [1st Sunday]₹ 9.00 CrDay 3 [1st Monday]₹ 4.50 CrDay 4 [1st Tuesday]₹ 3.90 CrDay 5 [1st Wesdnesday]₹ 2.00 Cr * may earnTotal₹ 20.35 Cr
5 Days India Net Collection ₹ – Cr5 Days Worldwide Collection ₹ – Cr5 Days Overseas Collection ₹ – Cr5 Days India Gross Collection ₹ – Cr5 Days Worldwide Share ₹ – CrKrack AP/TG area wise share collectionDayNizamCededGunturKrishnaNelloreWestEastUADay TotalDay 1 [1st Saturday]₹ 0.25 Cr₹ 0.05 Cr₹ 0.05 Cr₹ 0.06 Cr₹ 0.04 Cr₹ 0.05 Cr₹ 0.03 Cr₹ 0.07 Cr₹ 0.60 CrDay 2 [1st Sunday]₹ 2.05 Cr₹ 0.95 Cr₹ 0.60 Cr₹ 0.40 Cr₹ 0.23 Cr₹ 0.52 Cr₹ 0.40 Cr₹ 0.75 Cr₹ 5.90 CrDay 3 [1st Monday]₹ 1.00 Cr₹ 0.60 Cr₹ 0.25 Cr₹ 0.20 Cr₹ 0.15 Cr₹ 0.17 Cr₹ 0.30 Cr₹ 0.35 Cr₹ 3.02 CrDay 4 [1st Tuesday]₹ 1.00 Cr₹ 0.55 Cr₹ 0.20 Cr₹ 0.15 Cr₹ 0.15 Cr₹ 0.15 Cr₹ 0.20 Cr₹ 0.30 Cr₹ 2.70 CrTotal AP/TG Share₹ 4.30 Cr₹ 2.15 Cr₹ 1.10 Cr₹ 0.81 Cr₹ 0.57 Cr₹ 0.89 Cr₹ 0.93 Cr₹ 1.47 Cr₹ 12.22 Cr
Krack had an overall 44.88% Telugu Occupancy on Wednesday, January 13, 2021.Krack Day 5 Telugu Occupancy in Theaters
Morning Shows: 31.61%Afternoon Shows: 58.15%Evening Shows: -%Night Shows: -%Note: For mobile, Rotate the screen for the best view. Krack Day 5 Telugu Occupancy in main regionsRegionOverallMorningAfternoonEveningNightShowsBengaluru17.50%15%20%%%100Hyderabad40.00%25%55%%%250Chennai25.00%%25%%%4Vijayawada45.00%25%65%%%70Warangal82.50%70%95%%%16Guntur82.00%65%99%%%20Vizag-Visakhapatnam80.00%65%95%%%70Nizamabad72.50%60%85%%%10
This film is directed by Gopichand Malineni and produced by Saraswathi Films Division. Krack stars Ravi Teja, Shruthi Haasan, Varalaxmi Sarathkumar, and Samuthirakani in key roles. For more and the latest news about Tollywood Box Office Collection, Stay tuned to us.
Disclaimer: The Box Office Data are compiled from various sources and by our own research.
These data can be approximate and Sacnilk does not make any claims about the authenticity of the data.
Recent Information about Movies
KGF Chapter 2 Teaser released on 7th January 2021 at 9:29 pm. It is be available on Hombale Films Youtube Channel. more facts about KGF Chapter 2
Animal movie was announced on 1st Jan 2021 at 12:00 AM with a video on Youtube Channel of T-series. more facts about Animal
Vakeel Saab Teaser will be released on 14th January 2021 on Sankranthi. (This update was done on 12:01 AM on 1st Jan 2021 with a poster). more facts about Vakeel Saab
Raveena Tandon's first look as Ramika Sen from KGF: Chapter 2 was unveiled on her birthday on October 26, 2020. more facts about KGF Chapter 2
The upcoming film, Taish will release on ZEE5 on 29 October 2020 as a feature film and as a six-episode series simultaneously more facts about Taish