Fact Check: Not Rhea Chakraborty, It Is Disha Patani in This Viral Picture With Aditya Thackeray
While A FIR has been filed against Rhea Chakraborty by late Sushant Singh Rajput's father KK Singh and an investigation is ongoing, the actress is on a trial by media and social media. The actress was dating Sushant, who died by suicide on June 14. Every other day, there is a new conspiracy theory around death on the internet. Rhea has been at receiving end of abuses and insults on social media from the so-called fans of the late actor. Now, an alleged picture of Rhea with Aaditya Thackeray is going viral, which is being promoted as proof of her political connections.
Unfortunately, for the conspiracy theorists, this claim is easy to debunk. A little knowledge about Bollywood and willingness to use the brain is all you need. While the man in the picture is Aaditya, Cabinet Minister of Tourism and Environment Government of Maharashtra, the woman with him is NOT Rhea. The woman in the car is Disha Patani.
Check Out The Tweet With The False Claim Here:
जब उद्धव ठाकरे का बेटा #सुशान्त_सिंह की गर्ल फ्रेंड #रिया_चक्रवर्ती के साथ घुम रहा है तब कहा से सुशांत सिंह की हत्या की #CBI जांच होगी 🤔😠👇 pic.twitter.com/cVXt1RUeyI

— Ankita Dave (@AnkitaDaveIN) August 1, 2020
Here Is A Screenshot Of The Tweet: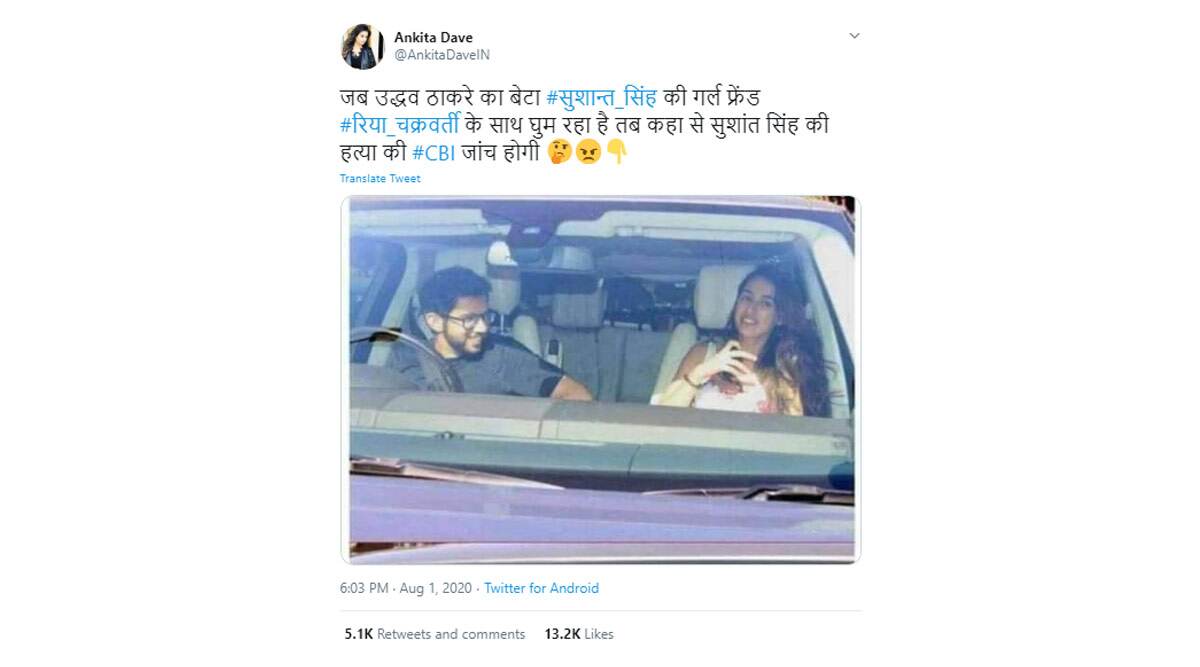 Aaditya Thackeray with Disha Patabni (Photo Credits: Twitter)
Here Are More People Making The Same FAKE Claim:
Why @theShivsena doesn't want CBI inquiry. Because Aaditya Thackeray is friends with Rhea.#SushantSinghRajpoot #SushantInOurHeartsForever pic.twitter.com/yGZKsemo6e

— @Torpedo2019 (@Torpedo_2019) August 2, 2020
And…
Rhea Chakraborty girlfriend of Sushant Singh rajpoot who is currently hanging with Aditya Thackeray and Aditya Thackeray is the son of Maharashtra CM…..Then how will uddhav Thackeray agree to a CBI ENQUIRY @shwetasinghkirt #JusticeforSushantSingRajput pic.twitter.com/UNLBL4f0Nd

— Amit Kumar Muduli (@Mramit88837239) August 3, 2020
Aaditya and Disha have been friends for some time now. Both the actors also share birthdays, and recently their Twitter conversation on June 14 was pretty cute. Disha has addressed her outings with Aaditya: "You go on dinners and lunches with friends, what's wrong? Everyone has friends who are male and female. You don't choose friends on the basis of gender. I don't need to only befriend females."
What is alarming is the number of people who have fallen for the false information. It is visually clear that the woman in the car is not Rhea Chakraborty. People not acquaintanced with Rhea's facial features might have been entrapped in this fake news.
Once again, the actress in the picture with Aaditya Thackeray is Disha Patani. She is NOT Rhea Chakraborty. Also, Disha and Aaditya are just friends.
Fact check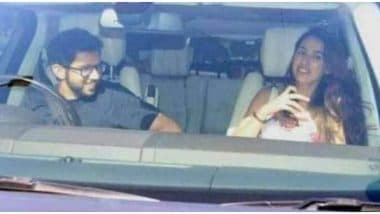 Claim :
Viral Picture Shows Rhea Chakraborty Hanging Out With Aaditya Thackeray.
Conclusion :
The woman in the picture with Aaditya Thackeray is NOT Rhea Chakraborty. It is actress Disha Patani.
(The above story first appeared on LatestLY on Aug 03, 2020 12:15 PM IST. For more news and updates on politics, world, sports, entertainment and lifestyle, log on to our website latestly.com).
Krack Day 5 Box Office Collection
Krack performed well on its first 4 days at the box office and earned ₹ 18.35 Cr India net. Here is Krack 5th day box office collection and Occupancy.Krack may earn 2.00 Cr on its fifth day.Krack 5 Days Box Office CollectionDayIndia Net CollectionDay 1 [1st Saturday]₹ 0.95 CrDay 2 [1st Sunday]₹ 9.00 CrDay 3 [1st Monday]₹ 4.50 CrDay 4 [1st Tuesday]₹ 3.90 CrDay 5 [1st Wesdnesday]₹ 2.00 Cr * may earnTotal₹ 20.35 Cr
5 Days India Net Collection ₹ – Cr5 Days Worldwide Collection ₹ – Cr5 Days Overseas Collection ₹ – Cr5 Days India Gross Collection ₹ – Cr5 Days Worldwide Share ₹ – CrKrack AP/TG area wise share collectionDayNizamCededGunturKrishnaNelloreWestEastUADay TotalDay 1 [1st Saturday]₹ 0.25 Cr₹ 0.05 Cr₹ 0.05 Cr₹ 0.06 Cr₹ 0.04 Cr₹ 0.05 Cr₹ 0.03 Cr₹ 0.07 Cr₹ 0.60 CrDay 2 [1st Sunday]₹ 2.05 Cr₹ 0.95 Cr₹ 0.60 Cr₹ 0.40 Cr₹ 0.23 Cr₹ 0.52 Cr₹ 0.40 Cr₹ 0.75 Cr₹ 5.90 CrDay 3 [1st Monday]₹ 1.00 Cr₹ 0.60 Cr₹ 0.25 Cr₹ 0.20 Cr₹ 0.15 Cr₹ 0.17 Cr₹ 0.30 Cr₹ 0.35 Cr₹ 3.02 CrDay 4 [1st Tuesday]₹ 1.00 Cr₹ 0.55 Cr₹ 0.20 Cr₹ 0.15 Cr₹ 0.15 Cr₹ 0.15 Cr₹ 0.20 Cr₹ 0.30 Cr₹ 2.70 CrTotal AP/TG Share₹ 4.30 Cr₹ 2.15 Cr₹ 1.10 Cr₹ 0.81 Cr₹ 0.57 Cr₹ 0.89 Cr₹ 0.93 Cr₹ 1.47 Cr₹ 12.22 Cr
Krack had an overall 44.88% Telugu Occupancy on Wednesday, January 13, 2021.Krack Day 5 Telugu Occupancy in Theaters
Morning Shows: 31.61%Afternoon Shows: 58.15%Evening Shows: -%Night Shows: -%Note: For mobile, Rotate the screen for the best view. Krack Day 5 Telugu Occupancy in main regionsRegionOverallMorningAfternoonEveningNightShowsBengaluru17.50%15%20%%%100Hyderabad40.00%25%55%%%250Chennai25.00%%25%%%4Vijayawada45.00%25%65%%%70Warangal82.50%70%95%%%16Guntur82.00%65%99%%%20Vizag-Visakhapatnam80.00%65%95%%%70Nizamabad72.50%60%85%%%10
This film is directed by Gopichand Malineni and produced by Saraswathi Films Division. Krack stars Ravi Teja, Shruthi Haasan, Varalaxmi Sarathkumar, and Samuthirakani in key roles. For more and the latest news about Tollywood Box Office Collection, Stay tuned to us.
Disclaimer: The Box Office Data are compiled from various sources and by our own research.
These data can be approximate and Sacnilk does not make any claims about the authenticity of the data.
Recent Information about Movies
KGF Chapter 2 Teaser released on 7th January 2021 at 9:29 pm. It is be available on Hombale Films Youtube Channel. more facts about KGF Chapter 2
Animal movie was announced on 1st Jan 2021 at 12:00 AM with a video on Youtube Channel of T-series. more facts about Animal
Vakeel Saab Teaser will be released on 14th January 2021 on Sankranthi. (This update was done on 12:01 AM on 1st Jan 2021 with a poster). more facts about Vakeel Saab
Raveena Tandon's first look as Ramika Sen from KGF: Chapter 2 was unveiled on her birthday on October 26, 2020. more facts about KGF Chapter 2
The upcoming film, Taish will release on ZEE5 on 29 October 2020 as a feature film and as a six-episode series simultaneously more facts about Taish