Kriti Sanon on SSR Case: 'I Hope and Pray That the CBI Takes Over, So It's Investigated Without Any Political Agendas'
Actress Kriti Sanon has demanded a CBI probe into the death of Sushant Singh Rajput, saying his loved ones deserve closure. "I pray that the truth comes out SOON.. His family, his friends, fans and all loved ones deserve this closure," Kriti wrote on Instagram Story. "I hope and pray that the CBI takes over the case so it's investigated without any political agendas, in the TRUE sense, to provide justice to the family!! It's high time his soul rests in peace! #CBIForSSR #SushantSinghRajput," added the actress, who worked with Sushant in the 2017 release "Raabta", and is rumoured to have dated him once. SSR Case: Ankita Lokhande Supports Shweta Singh Kirti's CBI Demand, Says 'We Will Find the Truth and Get Justice Di'.
Earlier this day, Sushant's sister Shweta Singh Kirti posted a new video on Instagram and Twitter, to reiterate her demand for a CBI enquiry into the late actor's death. "We stand together as a nation for CBI Enquiry! Demanding an unbiased investigation is our right and we expect nothing but the truth to come out. #CBIForSSR #Warriors4SSR #justiceforSushanthSinghRajput @PMOIndia @narendramodi @AmitShah," Shweta said in the video, which she posted on her verified Instagram account and her unverified Twitter handle. In another post, she is seen holding a placard that reads: "I am sister of Sushant Singh Rajput and I request for #CBIforSSR."
She captioned the image as: "It's time we find the truth and get justice. Please help our family and the whole world to know what the truth is and find closure, otherwise we will never be able to live a peaceful life!!#CBIForSSR Raise your voice and demand #JusticeForSushantSinghRajput #WarriorsForSSR @sushantsinghrajput." Following her post, Bollywood actress Kangana Ranaut also shared a video demanding a CBI probe into the death. NCW India Chairperson Demands Arrest of Bhojpuri Artist Vikash Gop For His Objectionable Songs on Sushant Singh Rajput-Rhea Chakraborty Controversy.
Check Out Kriti Sanon's Instagram Story Below: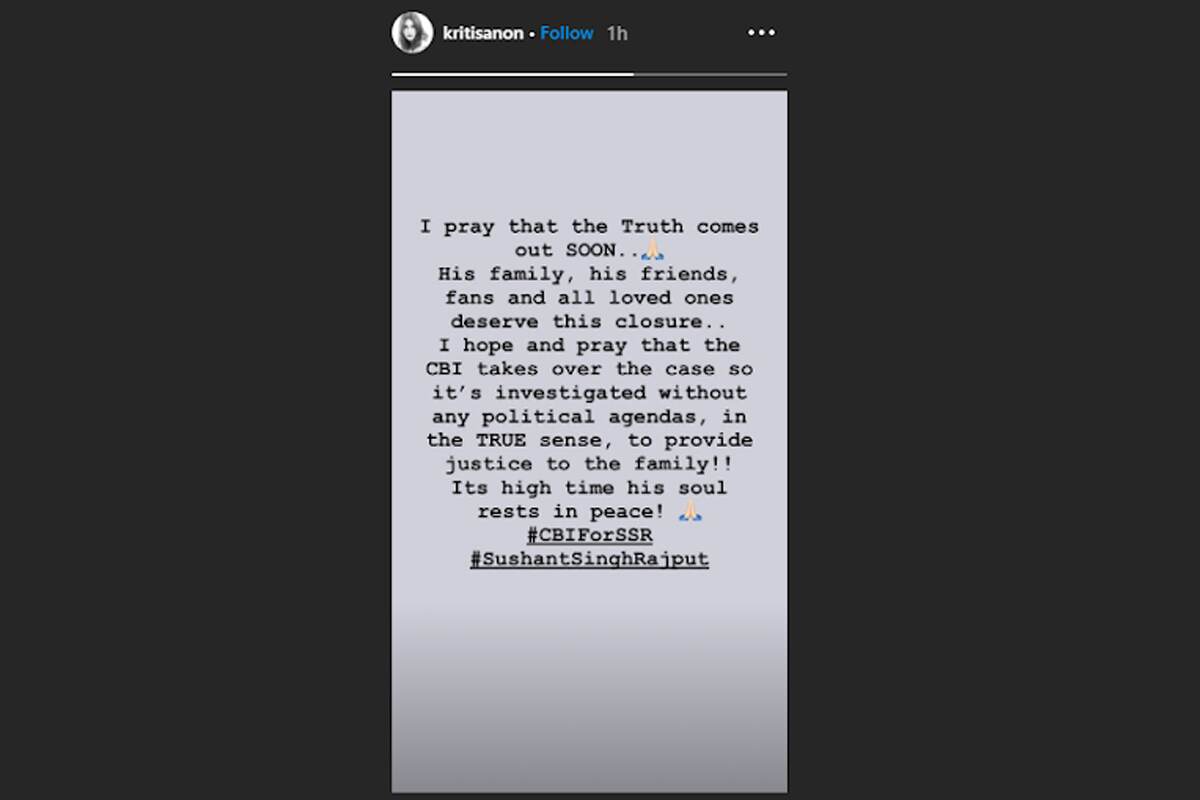 Check Out Kriti Sanon's Instagram Story Below: (Photo Credits: Instagram)
"We want CBI for Sushant Singh Rajput. We deserve to know the truth," says the actress in a video published by her verified Twitter team, which goes by the name of Team Kangana Ranaut. On June 14, Sushant was found dead in his apartment in Mumbai. His family has lodged an FIR charging his actress girlfriend Rhea Chakraborty and her family with abetment to suicide among other charges.
(The above story first appeared on LatestLY on Aug 13, 2020 08:14 PM IST. For more news and updates on politics, world, sports, entertainment and lifestyle, log on to our website latestly.com).
Krack Day 5 Box Office Collection
Krack performed well on its first 4 days at the box office and earned ₹ 18.35 Cr India net. Here is Krack 5th day box office collection and Occupancy.Krack may earn 2.00 Cr on its fifth day.Krack 5 Days Box Office CollectionDayIndia Net CollectionDay 1 [1st Saturday]₹ 0.95 CrDay 2 [1st Sunday]₹ 9.00 CrDay 3 [1st Monday]₹ 4.50 CrDay 4 [1st Tuesday]₹ 3.90 CrDay 5 [1st Wesdnesday]₹ 2.00 Cr * may earnTotal₹ 20.35 Cr
5 Days India Net Collection ₹ – Cr5 Days Worldwide Collection ₹ – Cr5 Days Overseas Collection ₹ – Cr5 Days India Gross Collection ₹ – Cr5 Days Worldwide Share ₹ – CrKrack AP/TG area wise share collectionDayNizamCededGunturKrishnaNelloreWestEastUADay TotalDay 1 [1st Saturday]₹ 0.25 Cr₹ 0.05 Cr₹ 0.05 Cr₹ 0.06 Cr₹ 0.04 Cr₹ 0.05 Cr₹ 0.03 Cr₹ 0.07 Cr₹ 0.60 CrDay 2 [1st Sunday]₹ 2.05 Cr₹ 0.95 Cr₹ 0.60 Cr₹ 0.40 Cr₹ 0.23 Cr₹ 0.52 Cr₹ 0.40 Cr₹ 0.75 Cr₹ 5.90 CrDay 3 [1st Monday]₹ 1.00 Cr₹ 0.60 Cr₹ 0.25 Cr₹ 0.20 Cr₹ 0.15 Cr₹ 0.17 Cr₹ 0.30 Cr₹ 0.35 Cr₹ 3.02 CrDay 4 [1st Tuesday]₹ 1.00 Cr₹ 0.55 Cr₹ 0.20 Cr₹ 0.15 Cr₹ 0.15 Cr₹ 0.15 Cr₹ 0.20 Cr₹ 0.30 Cr₹ 2.70 CrTotal AP/TG Share₹ 4.30 Cr₹ 2.15 Cr₹ 1.10 Cr₹ 0.81 Cr₹ 0.57 Cr₹ 0.89 Cr₹ 0.93 Cr₹ 1.47 Cr₹ 12.22 Cr
Krack had an overall 44.88% Telugu Occupancy on Wednesday, January 13, 2021.Krack Day 5 Telugu Occupancy in Theaters
Morning Shows: 31.61%Afternoon Shows: 58.15%Evening Shows: -%Night Shows: -%Note: For mobile, Rotate the screen for the best view. Krack Day 5 Telugu Occupancy in main regionsRegionOverallMorningAfternoonEveningNightShowsBengaluru17.50%15%20%%%100Hyderabad40.00%25%55%%%250Chennai25.00%%25%%%4Vijayawada45.00%25%65%%%70Warangal82.50%70%95%%%16Guntur82.00%65%99%%%20Vizag-Visakhapatnam80.00%65%95%%%70Nizamabad72.50%60%85%%%10
This film is directed by Gopichand Malineni and produced by Saraswathi Films Division. Krack stars Ravi Teja, Shruthi Haasan, Varalaxmi Sarathkumar, and Samuthirakani in key roles. For more and the latest news about Tollywood Box Office Collection, Stay tuned to us.
Disclaimer: The Box Office Data are compiled from various sources and by our own research.
These data can be approximate and Sacnilk does not make any claims about the authenticity of the data.
Recent Information about Movies
KGF Chapter 2 Teaser released on 7th January 2021 at 9:29 pm. It is be available on Hombale Films Youtube Channel. more facts about KGF Chapter 2
Animal movie was announced on 1st Jan 2021 at 12:00 AM with a video on Youtube Channel of T-series. more facts about Animal
Vakeel Saab Teaser will be released on 14th January 2021 on Sankranthi. (This update was done on 12:01 AM on 1st Jan 2021 with a poster). more facts about Vakeel Saab
Raveena Tandon's first look as Ramika Sen from KGF: Chapter 2 was unveiled on her birthday on October 26, 2020. more facts about KGF Chapter 2
The upcoming film, Taish will release on ZEE5 on 29 October 2020 as a feature film and as a six-episode series simultaneously more facts about Taish