Parul Gulati's PPE Kit Themed Birthday Bash With Friends Leaves Netizens Miffed (View Pics)
Parul Gulati has appeared in a few Punjabi films and also in television shows and web series. She has appeared in the films such as Romeo Ranjha, Zorawar, among others. She played a supporting role in the television show Yeh Pyaar Na hoga Kam and was also featured in P.O.W. – Bandi Yuddh Ke. The web series in which she featured are Haq Se, Selection Day and a few others. Parul Gulati recently celebrated her birthday and this 'lockdown birthday' was a themed event – PPE Kit. Parul shared a few pics from the birthday bash on social media platforms and after seeing them, netizens are pretty miffed. Amitabh Bachchan Lauds the Work of Doctors and Nurses, Calls Them 'God's Own Angels in White PPE Kits'.
Parul Gulati celebrated her 25th birthday on August 6, 2020. The actress, who has also owns line of human hair extensions by the name of Nish Hair Extensions, celebrated her birthday with her friends. While sharing the pics of her PPE Kit themed birthday bash on social media, Parul captioned it as, "Lock down birthday with all my favourite people …Also it is @Nishhair 's birthday…And thanks to everyone who showed up and followed the theme #birthdaypartytheme #lockdownbirthday." While many near and dear ones loved her themed party, netizens were not impressed with. They slammed her for being irresponsible and using PPE Kit and celebrating her birthday when the medical professionals are falling short of it amid the ongoing global crisis.
Parul Gulati's Birthday Bash Pics
One of the Insta user commented saying, "There are so many doctors/post graduates/interns/other frontline workers who are helplessly suffering yet working without PPE's because they do not have a choice. Some of them like me are sitting at home and losing a lot of Academic time which I could have otherwise utilized if we had access to PPE but because of the unavailability/lack of PPE kits and also because it costs a fortune we have to wait at home to get back to work because our health is jeopardised. I don't think you understand the gravity of the situation or that you care because if you did..you'd never "host" a PPE theme party and even have THE AUDACITY to show it off on your social platform. You could use your privilege of having access to so many people in so many ways. But no! You chose THIS. Thanks to you , a lot more people will get "inspired" and host similar parties, more PPE "lookbooks" , "fashion hacks", "how to slay wearing a PPE". Who cares if the purpose of PPE is not served.. we are FASHION INFLUENCERS we will use our privilege and do whatever we can BECAUSE WE CAN. Pathetic."
And A Few More Comments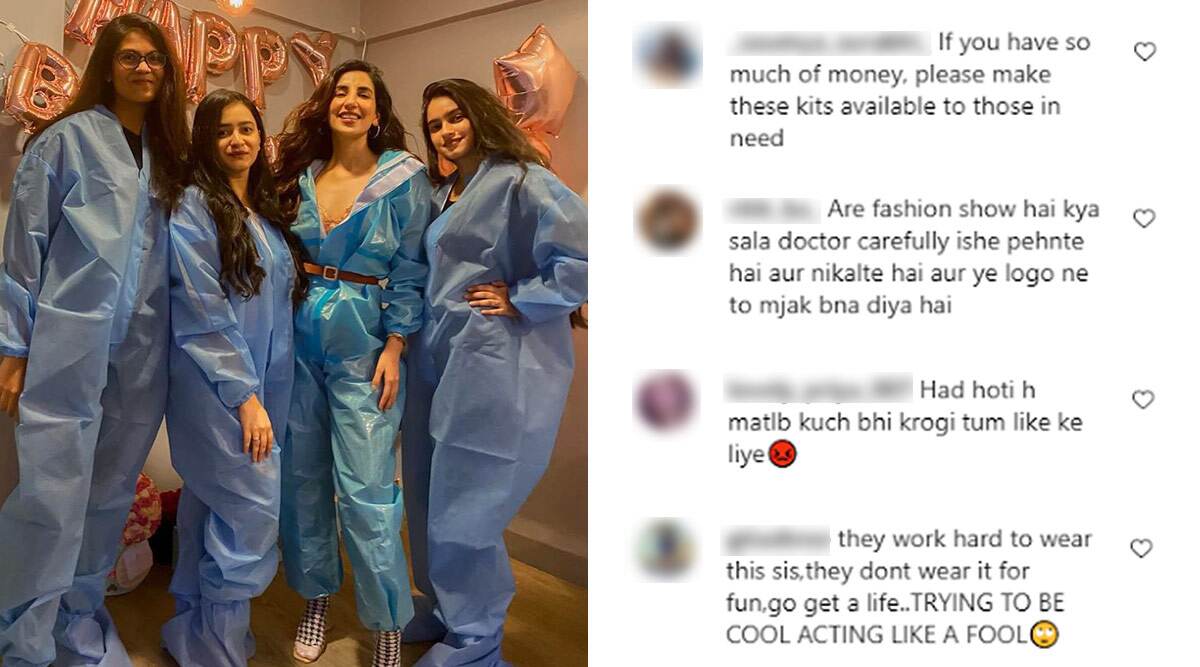 Parul Gulati's Birthday Bash (Photo Credits: Instagram)
There is a major shortage of PPE kits for the medical professionals and other frontline warriors who are battling against coronavirus pandemic. And amid such crisis, it was certainly disturbing for netizens to see such themed event parties.
(The above story first appeared on LatestLY on Aug 08, 2020 11:34 AM IST. For more news and updates on politics, world, sports, entertainment and lifestyle, log on to our website latestly.com).
Krack Day 5 Box Office Collection
Krack performed well on its first 4 days at the box office and earned ₹ 18.35 Cr India net. Here is Krack 5th day box office collection and Occupancy.Krack may earn 2.00 Cr on its fifth day.Krack 5 Days Box Office CollectionDayIndia Net CollectionDay 1 [1st Saturday]₹ 0.95 CrDay 2 [1st Sunday]₹ 9.00 CrDay 3 [1st Monday]₹ 4.50 CrDay 4 [1st Tuesday]₹ 3.90 CrDay 5 [1st Wesdnesday]₹ 2.00 Cr * may earnTotal₹ 20.35 Cr
5 Days India Net Collection ₹ – Cr5 Days Worldwide Collection ₹ – Cr5 Days Overseas Collection ₹ – Cr5 Days India Gross Collection ₹ – Cr5 Days Worldwide Share ₹ – CrKrack AP/TG area wise share collectionDayNizamCededGunturKrishnaNelloreWestEastUADay TotalDay 1 [1st Saturday]₹ 0.25 Cr₹ 0.05 Cr₹ 0.05 Cr₹ 0.06 Cr₹ 0.04 Cr₹ 0.05 Cr₹ 0.03 Cr₹ 0.07 Cr₹ 0.60 CrDay 2 [1st Sunday]₹ 2.05 Cr₹ 0.95 Cr₹ 0.60 Cr₹ 0.40 Cr₹ 0.23 Cr₹ 0.52 Cr₹ 0.40 Cr₹ 0.75 Cr₹ 5.90 CrDay 3 [1st Monday]₹ 1.00 Cr₹ 0.60 Cr₹ 0.25 Cr₹ 0.20 Cr₹ 0.15 Cr₹ 0.17 Cr₹ 0.30 Cr₹ 0.35 Cr₹ 3.02 CrDay 4 [1st Tuesday]₹ 1.00 Cr₹ 0.55 Cr₹ 0.20 Cr₹ 0.15 Cr₹ 0.15 Cr₹ 0.15 Cr₹ 0.20 Cr₹ 0.30 Cr₹ 2.70 CrTotal AP/TG Share₹ 4.30 Cr₹ 2.15 Cr₹ 1.10 Cr₹ 0.81 Cr₹ 0.57 Cr₹ 0.89 Cr₹ 0.93 Cr₹ 1.47 Cr₹ 12.22 Cr
Krack had an overall 44.88% Telugu Occupancy on Wednesday, January 13, 2021.Krack Day 5 Telugu Occupancy in Theaters
Morning Shows: 31.61%Afternoon Shows: 58.15%Evening Shows: -%Night Shows: -%Note: For mobile, Rotate the screen for the best view. Krack Day 5 Telugu Occupancy in main regionsRegionOverallMorningAfternoonEveningNightShowsBengaluru17.50%15%20%%%100Hyderabad40.00%25%55%%%250Chennai25.00%%25%%%4Vijayawada45.00%25%65%%%70Warangal82.50%70%95%%%16Guntur82.00%65%99%%%20Vizag-Visakhapatnam80.00%65%95%%%70Nizamabad72.50%60%85%%%10
This film is directed by Gopichand Malineni and produced by Saraswathi Films Division. Krack stars Ravi Teja, Shruthi Haasan, Varalaxmi Sarathkumar, and Samuthirakani in key roles. For more and the latest news about Tollywood Box Office Collection, Stay tuned to us.
Disclaimer: The Box Office Data are compiled from various sources and by our own research.
These data can be approximate and Sacnilk does not make any claims about the authenticity of the data.
Recent Information about Movies
KGF Chapter 2 Teaser released on 7th January 2021 at 9:29 pm. It is be available on Hombale Films Youtube Channel. more facts about KGF Chapter 2
Animal movie was announced on 1st Jan 2021 at 12:00 AM with a video on Youtube Channel of T-series. more facts about Animal
Vakeel Saab Teaser will be released on 14th January 2021 on Sankranthi. (This update was done on 12:01 AM on 1st Jan 2021 with a poster). more facts about Vakeel Saab
Raveena Tandon's first look as Ramika Sen from KGF: Chapter 2 was unveiled on her birthday on October 26, 2020. more facts about KGF Chapter 2
The upcoming film, Taish will release on ZEE5 on 29 October 2020 as a feature film and as a six-episode series simultaneously more facts about Taish